| | |
| --- | --- |
| | |
[23] Sweeney Todd icons
[3] Pirates of the Caribbean icons
[2] Sleepy Hollow icons (Behind the Scenes)
[1] Fear and Loathing in Las Vegas icon (Behind the Scenes)
[1] Sweeney Todd colorbar with variation
[1] Pirates of the Caribbean colorbar
[1] Johnny Depp colorbar (various fandoms)
[13] Pirates of the Caribbean banners
[1] Sweeney Todd banner
Warnings: Violence, innuendo, and spoilers for
Sweeney Todd
and
Pirates of the Caribbean: At World's End
.
*Comment if you take.
*You must credit.
*Textless icons are not bases.
*ABSOLUTELY NO HOTLINKING.

Previews:

23
Sweeney Todd
icons
01.
02.
03.
04.
05.
06.
07.
08.
09.
10.
11.
12.
13.
14.
15.
16.
17.
18.
19.
20.
21.
22.
23.
*Comments:
#5
: This is actually a variation on
one I'd already posted
. However, the new trailer revealed that they'd actually edited the blood from his face, and I thought it looked much more cray-zay with all the blood on him (and I have some hang-up when it comes to Depp and blood on his face—I think it's hot).
3
Pirates of the Caribbean
icons, 2
Sleepy Hollow
icons, 1
Fear and Loathing in Las Vegas
icons
*Comments:
#1
CotBP: That's from the outtakes reel, I believe.
#1
SH: From a making-of documentary on my DVD. I don't think they informed him that the Tree of the Dead would be doing that.
#1
FaLiLV: Also from a making-of documentary on my DVD. That's a mask Hunter S. Thompson gave as a present to Johnny Depp. It's an old hornets' nest. RIP, Thompson.
1
Sweeney Todd
colorbar with variation
*Comments: The middle boy is actually the kid who will be playing Anthony Hope, of whom there is not a shot of as of yet. When we get a shot of him in full character, I will probably modify the colorbar. Or not, because OH MY GOD, that boy is SO. PRETTY. In that picture.
1
Pirates of the Caribbean
colorbar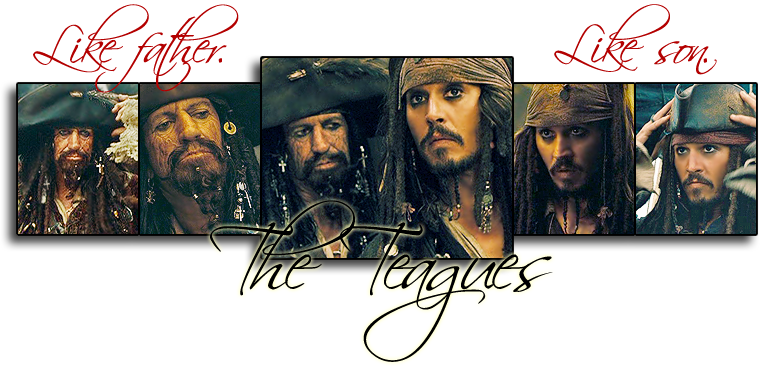 1 Johnny Depp colorbar

*Comments:
Fandoms are
Edward Scissorhands
,
Ed Wood
,
Sleepy Hollow
,
Corpse Bride
,
Charlie and the Chocolate Factory
, and
Sweeney Todd
.
13
Pirates of the Caribbean
banners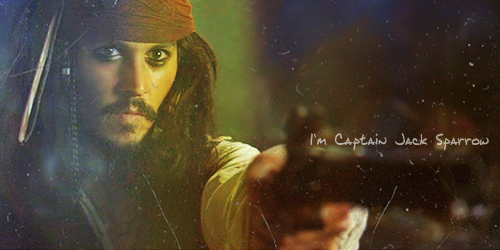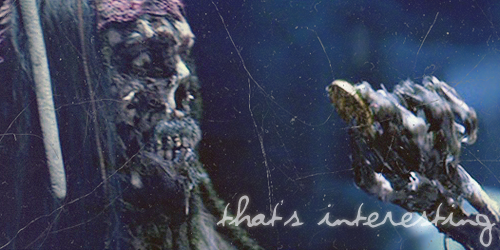 And, mostly because I don't want to clutter up the thing with the same picture six times over, here are links to the variations I made on that one (I was feeling slashy—forgive me). Click on the phrase you want.
Because it's HOT!
Because two sexy men are better than one!
Because I couldn't decide which one to undress!
Because it's Orlando Bloom and Johnny Depp. DUH.
Mmm…Jack and Will…what were we talking about?
And now, back to the banners.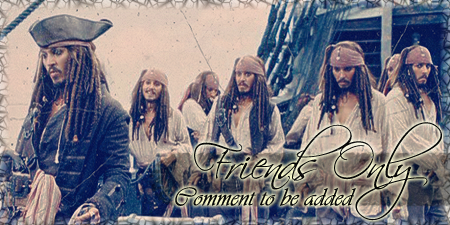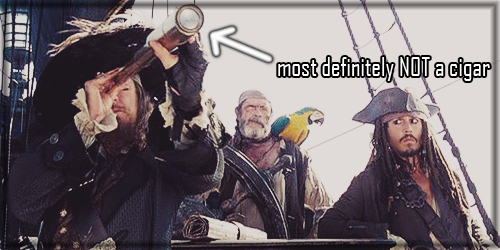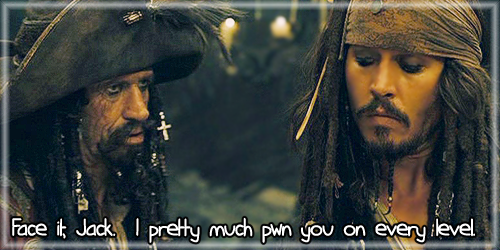 *Comments:
#2
AWE: It was so totally not. Was it just me, or was PotC:AWE extraordinarily cheeky?
1
Sweeney Todd
banner